News
mix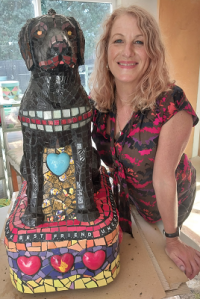 Paws For Purpose 40 talented Kiwi artists have collaborated with Blind Low Vision NZ to create unique works of art for auction. Bid on your favourite dog to help give independence to Kiwis living with vision loss.
Rachel loved the challenge of covering a 3D object in mosaic. "This is the third Charity Art Auction I have participated in, the 4th animal I've covered in mosaic, and the trickiest yet because of all those hard-to-get-to undercuts and crevices. I find the spirit of the animal comes to life when I work on it, and I sometimes get attached to it, which makes it hard to let it go! I am very happy to be supporting Blind Low Vision."
I wanted to draw attention to "having the Black Dog" as a metaphor for depression and the fact that with nearly 30 % of the population of NZ suffering mental health issues, owning a dog can greatly reduce stress, anxiety and depression, ease loneliness and reduce blood pressure. They really are full of Aroha. I have used hand cut ceramic tiles, ceramic hearts and plastic scrabble pieces. The black tiles were chosen because of their texture, aiding the tactility for impaired vision.
Rachel is an artist, designer and art educator specialising in community mosaics who likes to create vibrant and unique site-specific art with impact.
Commissions undertaken have included wall murals, pathways, seating and sculptural features. I have clocked up over 20 years experience in collaboration with architects, interior designers, educational institutes, councils, arts trusts and creative agencies.
Committed to building partnerships with schools and local residents on educational and social projects, Rachels focus is on urban art combining contemporary and traditional mosaic techniques.
"I am passionate about engaging communities in the awareness of the collective power of participatory art as transformative and therapeutic. It is as much about the magic of the process as the finished article.
I have been extremely fortunate that my artistic career has enabled me to travel to far corners of the globe, working on all sorts of projects with amazing people from diverse locations. The power and results of community art never cease to amaze me.

I have been creating art since as long as I can remember and have worked with my hands most of my life. Art-related employment has seen me in a bronze casting foundry, assisting glass blowers and owning a ceramic-making business. I recall spending hours and hours colouring in intricate Islamic tile patterned colouring books in the 70s which thinking back, must have been an inkling towards my favourite future medium.
I am a community artist so the themes I communicate through are based on who I am working with and their brief. More often than not they reflect the environment they come from somehow.
I particularly love evoking emotional responses through a strong use of colour. Coloured tiles are not so easy to find in NZ so I'm always on the lookout for something a bit striking and different to use in my art"
This is your chance to get your hands on Rachel Silver's amazing mosaic art. We are lucky to have her as one of our favourite art facilitators at MIX - and you could be lucky enough to own her art while raising money for the Blind Low Vision NZ. Make "Black Dog" yours, bid here.